Have you ever wondered what life would be like if it were a little more…exciting? Perhaps, Jared Williams suggests, it would help if you were a ninja. Inspired by the author's conversations with his son, Rabbit Ninja alternates between the quotidian boredom of a young school-aged rabbit (his teeth-brushing and school lessons) and bursts of imagined ninja action, filled with nunchucks, noodles, and the Ultimate Nemesis. Its charming full-color illustrations and playful narration create lively movement from page to page -- the book is also chock-full of ninja facts that will delight and inspire fledgling ninjas in the making. Subtly wise, Rabbit Ninja is a vivid triumph of the imagination that encourages young readers to imagine wilder and more colorful possibilities for themselves.
Jared Williams has been illustrating books and magazines for over 20 years. He grew up in New England spending his days drawing on his belly in the grass, saving abandoned birds and collecting comics. After receiving his BFA from Rhode Island School of Design he went on to illustrate over a dozen books including The Hidden Life of Dogs, Tribe of Tiger and the Catie Copley series. Rabbit Ninja is the first book he has both written and illustrated. He lives in Roslindale, Massachusetts.
Event date:
Saturday, June 15, 2019 - 11:00am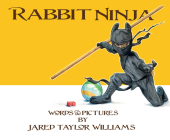 $17.95
ISBN: 9781567926286
Availability: On Our Shelves Now
Published: David R. Godine Publisher - May 30th, 2019
A young rabbit imagines how much easier daily life would be if he were a ninja, but he knows that sometimes, being himself is just fine. Includes facts about ninjas.
---