The Randolph Caldecott Medal is an award given in recognition of the year's most distinguished American picture book for children.

$18.99
ISBN: 9780316362382
Availability: On Our Shelves Now
Published: Little, Brown Books for Young Readers - April 10th, 2018
A beloved picture book from two-time Caldecott Medal award-winner Sophie Blackall that transports readers to the seaside in timeless, nautical splendor! Watch the days and seasons pass as the wind blows, the fog rolls in, and icebergs drift by. Outside, there is water all around.
---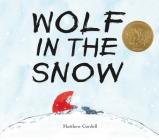 $17.99
ISBN: 9781250076366
Availability: Available from Warehouse
Published: Feiwel & Friends - January 3rd, 2017
Winner of the 2018 Caldecott Medal

A girl is lost in a snowstorm. A wolf cub is lost, too. How will they find their way home?

Paintings rich with feeling tell this satisfying story of friendship and trust. Here is a book set on a wintry night that will spark imaginations and warm hearts, from Matthew Cordell, author of Trouble Gum and Another Brother.
---

$17.95
ISBN: 9781616205676
Availability: On Our Shelves Now
Published: Algonquin Young Readers - August 9th, 2016
Winner of the 2017 Newbery Medal
The New York Times Bestseller

An Entertainment Weekly Best Middle Grade Book of 2016
A New York Public Library Best Book of 2016
A Chicago Public Library Best Book of 2016
An Amazon Top 20 Best Book of 2016
A Publishers Weekly Best Book of 2016
A School Library Journal Best Boo

---

$18.99

ISBN: 9780316324908

Availability: On Our Shelves Now

Published: Little, Brown Books for Young Readers - October 20th, 2015

A #1 New York Times Bestseller and Winner of the Caldecott Medal about the remarkable true story of the bear who inspired Winnie-the-Pooh.

In 1914, Harry Colebourn, a veterinarian on his way to tend horses in World War I, followed his heart and rescued a baby bear. He named her Winnie, after his hometown of Winnipeg, and he took the bear to war.


---

$18.99

ISBN: 9780316199988

Availability: On Our Shelves Now

Published: Little, Brown Books for Young Readers - April 8th, 2014

Dan Santat's Caldecott Medal-winning The Adventures of Beekle: The Unimaginary Friend is a humorous and thoughtful celebration of friends.


---

$19.99

ISBN: 9781416994152

Availability: Available from Warehouse

Published: Atheneum/Richard Jackson Books - September 3rd, 2013

The Caldecott Medal Winner, Sibert Honor Book, and New York Times bestseller Locomotive is a rich and detailed sensory exploration of America's early railroads, from the creator of the "stunning" (Booklist) Moonshot.


It is the summer of 1869, and trains, crews, and family are traveling together, riding America's brand-new

---

$17.99

ISBN: 9780763655990

Availability: On Our Shelves Now

Published: Candlewick - October 9th, 2012

The 2013 Caldecott Medal winner!

From the creator of the #1 New York Times best-selling and award-winning I Want My Hat Back comes a second wry tale.


---

$17.99

ISBN: 9780375858611

Availability: Available from Warehouse

Published: Schwartz & Wade - May 10th, 2011

Winner of the 2012 Randolph Caldecott Medal


---

$18.99

ISBN: 9781596434028

Availability: Available from Warehouse

Published: Roaring Brook Press - May 25th, 2010

THE BEST SICK DAY EVER and the animals in the zoo feature in this striking picture book debut.


---

$18.99

ISBN: 9780316013567

Availability: Available from Warehouse

Published: Little, Brown Books for Young Readers - September 1st, 2009

The Caldecott Award-winning and New York Times bestselling fable of compassion and kindness retold by acclaimed artist Jerry Pinkney.


---