The Voting Booth (MP3 CD)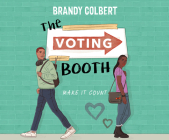 What do civic duty, fried salami sandwiches, and an instagram-famous cat have in common? They're all very important parts of this fantastic YA. Marva and Duke are both excited to vote in their first election(considering this is set in our present day, who could blame them?). But a series of unfortunate circumstances make what should be a quick stop before school into an all-day odyssey. I loved every moment, from meet-cute at the voting booth to the watching the election results. A dose of fun, during our heavy political times.
— Tildy
Description
---
Marva Sheridan was born ready for this day. She's always been driven to make a difference in the world, and what better way than to vote in her first election?Duke Crenshaw is so done with this election. He just wants to get voting over with so he can prepare for his band's first paying gig tonight.Only problem? Duke can't vote.When Marva sees Duke turned away from their polling place, she takes it upon herself to make sure his vote is counted. She hasn't spent months doorbelling and registering voters just to see someone denied their right.And that's how their whirlwind day begins, rushing from precinct to precinct, cutting school, waiting in endless lines, turned away time and again, trying to do one simple thing: vote. They may have started out as strangers, but as Duke and Marva team up to beat a rigged system (and find Marva's missing cat), it's clear that there's more to their connection than a shared mission for democracy.