Gustavo, the Shy Ghost (Compact Disc)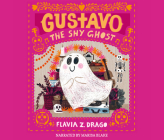 Probably the sweetest ghost story ever. Gustavo just wants to make friends, but being shy makes it very difficult. He gathers up his courage, and invites every ghoul and monster in town to his violin concert. But what will happen if no one shows up? The illustrations in this are absolutely adorable, and perfect for the season without being too spooky. You too will want to be Gustavo's friend by the end!
— Tildy
Description
---
Gustavo is good at doing all sorts of ghostly things: walking through walls, making objects fly, and glowing in the dark. And he loves almost nothing more than playing beautiful music on his violin. But Gustavo is shy, and some things are harder for him to do, like getting in a line to buy eye scream or making friends with other monsters. Whenever he tries getting close to them, he realizes they just can't see him. Now that the Day of the Dead is fast approaching, what can he do to make them notice him and to share with them something he loves? Debut author Flavia Z. Drago tells a sweet and gently offbeat story of loneliness, bravery, and friendship that is sure to be a treat for little ghouls and goblins everywhere.