Shmelf the Hanukkah Elf (Hardcover)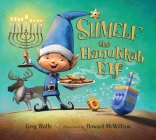 $17.99
Usually Ships in 1-5 Days
Description
---
In this delightfully inventive holiday tale, an elf named Shmelf takes a journey from the North Pole . . . and discovers all the joys of Hanukkah.
Shmelf is one of Santa's most important elves. He's part of the List Checking department, and he makes sure all the good boys and girls get their presents! But when Shmelf finds out that some children are missing from Santa's list, he goes to investigate.
What Shmelf uncovers is Hanukkah, a wondrous and joyful holiday that Jewish families celebrate each year. As Shmelf observes a family lighting the menorah, playing dreidel, and hearing the Hanukkah story, he sees how special the traditions of the holiday truly are--and he wants to be a part of it! Luckily, Santa just might have a special role in mind for Shmelf . . .
The rich traditions of Hanukkah come to life in this whimsical and magical story that's perfect for the holiday season.
About the Author
---
Greg Wolfe was raised a nice Jewish boy who also happened to be a true believer in Santa, elves, and flying reindeer. Greg lives in Southern California with his wife and young son (for whom he wrote Shmelf, to prove that Santa believes in him too).
Howard McWilliam left his career as a financial journalist and editor to draw pictures instead. He has illustrated eight other picture books, including I Need My Monster, which won seven state reader awards and been translated into five languages. He lives in Cheltenham, England, with his wife and two young sons.
www.howardmcwilliam.com
Praise For…
---
"Wolfe's comedic rhymes paired with McWilliam's painterly illustrations make for a joyful, modern mashup of two grand holiday traditions." - EW.com
"This good-natured fable is a jolly way for kids of any faith to learn about the Jewish holiday." - USA Today
"Three cheers for Shmelf for recognizing that 'Hanukkah's awesome! I'm totally in.'" - Publishers Weekly
"Moore has a light, sure touch, and she gives McWilliam (I Need My Monster) plenty of room to exercise his considerable gifts for operatic expressiveness and expertly choreographed physical humor." - Publishers Weekly on WHEN A DRAGON MOVES IN
"Colorful, cartoony illustrations brim with humor . . . deadpan text is sure to illicit giggles." - Kirkus Reviews on WHEN A DRAGON MOVES IN
"Dramatic in perspective, McWilliam's exaggerated, digitally colored art renders the monsters in a spectrum of neon hues and outlandish shapes. The collaborators ably balance some bedtime chills with humor, and Ethan's enthusiasm for his monster should prove infectious." - Publishers Weekly on I NEED MY MONSTER
"A clever anxiety-defuser and an unusually well done double-debut." - Kirkus Reviews on I NEED MY MONSTER