Rosa's Bus: The Ride to Civil Rights (Hardcover)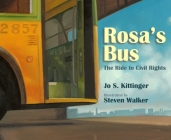 Description
---
The story of the bus--and the passengers who changed history. Like all buses in Montgomery, Alabama, in the 1950s, bus #2857 was segregated: white passengers sat in the front and black passengers sat in the back. Bus #2857 was an ordinary public bus until a woman named Rosa Parks, who had just put in a long day as a seamstress, refused to give up her seat to a white passenger. Her arrest sparked the Montgomery Bus Boycott, a major event in the Civil Rights moment, led by a young minister named Dr. Martin Luther King, Jr. For 382 days, black passengers chose to walk rather than ride the buses in Montgomery. From the streets of Montgomery to its present home in the Henry Ford Museum, here is the remarkable story, a recipient of the Crystal Kite Award, of a bus and the passengers who changed history.
About the Author
---
Jo S. Kittinger is the author of more than a dozen books, both fiction and nonfiction. She lives in Birmingham, Alabama.

Steven Walker is an illustrator whose numerous clients include Highlights for Children and the Boy Scouts of America. He lives in Westerville, Virginia.
Praise For…
---
"Employing direct, accessible, relentless language arranged in free-verse stanzas, the author brings to life the drama of Parks's act (neither busting myths nor exploiting them) and the events it sparked. Walker's double-page, large-scale oils evoke the emotions of a determined people and perfectly complement the text. The author's note contextualizes the boycott and names Claudette Colvin and Mary Louise Smith as Parks's forerunners. Powerful. (sources)" --Kirkus Reviews

"An inventive approach. . . . Kids will connect with the unsentimental, contemporary message: 'Imagine where it has been / and where we have yet to go.'" --Booklist