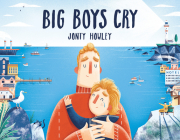 List Price: $17.99
Our Price: $14.39
(Save: $3.60 20%)
Staff Reviews
---
A young boy teaches his dad that it's okay to cry, and that crying isn't always about being sad, or scared, even though it's OKAY to cry when you're sad and scared too. The lovely colorful illustrations make us feel alright about getting a little teary as this book simply and swiftly kicks toxic masculinity out of the park. An important book for any young (or old!) reader.
— Tildy
Summer 2019 Kids Indie Next List
---
"Levi is about to spend his first day at a new school, and he's scared! 'Big boys don't cry,' his father tells him as he sends him on his walk to school. But as he walks, Levi encounters a fisherman, a harpist, Army men, a biker man, all sorts of men, and to his surprise, for some reason or another, they are all crying! This charming and funny book has a warm illustration style and will help teach kids that expressing emotion is healthy, while at the same time making them chuckle at how everyone Levi encounters is tearing up."
— Jen Manglass, Odyssey Bookshop, South Hadley, MA
Description
---
Let boys cry! This picture book imagines a world in which boys are encouraged to express their full range of emotions.

It's Levi's first day at a new school, and he's scared. His father tries to comfort Levi by telling him "Big boys don't cry." Though the father immediately understands his misstep, he can't find the words to comfort his son, and Levi leaves for school, still in need of reassurance.

Fortunately, along his walk to school, Levi sees instance after instance of grown men openly expressing their sadness and fear. His learned mantra, "Big boys don't cry," slowly weakens, and by the time he's at school he releases a tear. Once he's there, things aren't so bad after all, and on his walk home he sees everyone he's encountered earlier, feeling better now that they expressed their emotions. Upon his arrival home, he finds his father waiting for him on their porch, tears in his eyes. His father is able to admit that he was scared and the two embrace, closer than before.

Jonty Howley's gorgeous debut paints the world we wish existed for our boys, and offers a path there! This story is the truest interpretation of the notion that we should "let boys be boys": let them express the full range of their emotions, vulnerable parts and all!
About the Author
---
JONTY HOWLEY is a British author and illustrator. From a young age, Jonty has always loved to draw, and few things excite him more than beautiful books and the worlds you can find inside them. This is his first one.
Praise For…
---
"On his first day of school, a young boy learns it's OK to show his feelings no matter his age...The overall lesson about men showing tears is made all the more effective with its representation of a range of feelings beyond sadness. A compassionate story that encourages openness and honesty about emotions."

-Kirkus

 
Levi is crying because it's his first day at a new school. "Big boys don't cry," Papa tells him, but Levi's
journey as he walks proves otherwise. First he sees a fisherman weeping, then a harpist, grandparents, new parents, rich men, poor men, army men, brainy men, and even baker men. "Big boys were crying everywhere!"
Digitally created full-bleed pages highlight the bright pastels of the seashore.Children will have fun seeking out the spurting blue drops on each unique face, as they understand that it's
OK to cry.—Booklist