Art of Nothing: 25 Years of Mutts and the Art of Patrick McDonnell (Hardcover)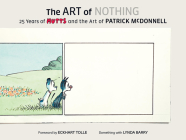 About the Author
---
Patrick McDonnell is the bestselling author, illustrator, playwright, painter, and creator of the comic strip Mutts, which appears in over 700 newspapers around the world. He has received numerous awards internationally, including the Reuben, the highest honor given by the National Cartoonists Society. He lives in New Jersey.
Praise For…
---
"Mutts is elegant,
simple, deep, yet funny
Like a good haiku."
— Pete Docter, Pixar
"Patrick McDonnell's book is a singular work of art, a giddy, gorgeous treasure, which I will wear out studying and learning from."
— Jules Feiffer
"Patrick McDonnell is a compassionate champion for all animals, particularly dogs and cats, and through his comic strip, Mutts, he captures magically the personalities of some of our best friends."
— Jane Goodall
"Patrick McDonnell's Mutts is up there with Peanuts, Pogo, Krazy Kat, and Calvin and Hobbes—cartoons that are smart, funny, brilliantly drawn, and full of heart."
— Matt Groening
"One of the best comic strips of all time."
— Charles M. Schulz
"There is a simplicity to Patrick McDonnell's work that is as delightful as it is deceptive."
— Eckhart Tolle, from his foreword