Monarch Butterfly (New & Updated) (Hardcover)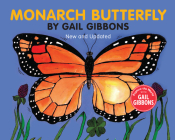 Description
---
Introduce young readers to the fascinating and colorful process of how caterpillars become butterflies.

As we follow the transformation of a tiny white egg laid on a leaf to a brilliantly-colored butterfly, award-winning writer and artist Gail Gibbons uses bright, detailed watercolors to illustrate the life cycle of the monarch butterfly, stage by stage. Young readers can follow along and learn as the monarch grows, changes, and takes flight, in this simple introduction to a process studied by many school children.

With clear, labeled diagrams and simple text that defines and reinforces important vocabulary, Monarch Butterfly introduces key concepts of insect anatomy and behavior. And of course, the unique migration of the monarch--which can range up to four thousand miles--is covered, with descriptions of how the insects travel, and how people in their path celebrate the occasion.

This best-selling look at butterflies also includes labelled instructions about how to hatch your own monarch butterfly, and a page of fun facts.
About the Author
---
According to the Washington Post, Gail Gibbons "has taught more preschoolers and early readers about the world than any other children's writer-illustrator." Ms. Gibbons has published more than 100 informational titles, including the bestselling titles From Seed to Plant and Monarch Butterfly, all fully vetted by experts. Her many honors include the Washington Post/Children's Book Guild Nonfiction Award and the NSTA Outstanding Science Trade Book Award.
Praise For…
---
★ "Readers who are familiar with Gibbons's other titles will recognize her engaging, informative style. . . . An outstanding choice for instructional use and enjoyable reading." —School Library Journal, Starred Review