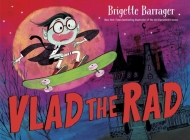 Vlad the Rad is out to convince us (and Miss Fussbucket!) that skateboarding can be spooky! I never thought I'd be so enthralled at watching a young vampire succeed at his passion. Vlad's not perfect but figures out that spooky noises gleaned from sick tricks, and his speed combined with his terrifying appearance will have just the effect Miss Fussbucket is looking for. I loved the silliness and the strive to be spooky in Vlad the Rad! A perfect non-scary Halloween book for kids, with delightful illustrations.
— Tildy
Description
---
NEW from the bestselling illustrator of Uni the Unicorn! A new mythical--and totally rad--character to laugh with and love.

Vlad is always getting in trouble at Miss Fussbucket's School for Aspiring Spooks. Unlike the other little vampires, witches, mummies, and ghosts, Vlad isn't very interested in learning spookiness. That's because...Vlad loves to skateboard! How can he possibly think about being a good spook when all he wants to do is practice his latest gnarly trick? Maybe Vlad can find a way to do both!

Brigette Barrager's debut author-illustrator project is full of energy, fun, and sweet tricks! Passionate kids will identify with Vlad, and will take heart from the way he combines his love of skateboarding with his schoolwork. A perfect Halloween read-aloud for the classroom!
About the Author
---
BRIGETTE BARRAGER graduated from CalArts with a BFA in character animation in 2007. She likes tea and books and general old lady-ish stuff, and hates when people's toes hang over the edges of their sandals. Visit her at brigetteb.blogspot.com.
Praise For…
---
"Moldy green with highlights of red and the hot pink of Vlad's skateboard pop against the more sedate backgrounds of the extremely staid school and pages of negative space. Readers will enjoy the prim-and-proper uniform-clad child monsters.Would that every student could find a way to combine what they love with their schoolwork." —Kirkus Reviews

"Should elicit chuckles." —Publishers Weekly