READER REVIEWS
MAY 2023 REVIEWS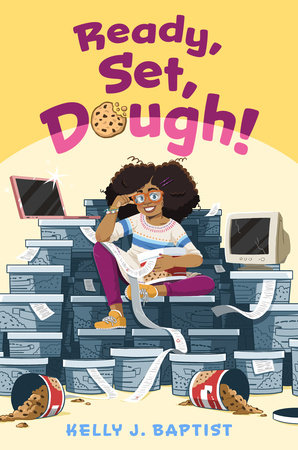 Zoe Sparks has a problem. She works for the middle-school newspaper but can't write her articles efficiently because her home computer is a piece of junk that breaks frequently. She wants to buy a WordPro, a tablet made specifically for writing, but her parents think that it costs too much. So, Zoe takes matters into her own hands. Her school fundraiser is taking place, and the top prize is exactly what she wanted: a bright orange WordPro! Teaming up with her best friend Felix, she is determined to sell more cookie dough than any of her schoolmates. So is so focused that she ends up forgetting about Felix's swim meet and annoying her family with all her talk of selling cookie dough. Should she put everything on the line to pursue her dream? This book, Ready, Set, Dough!, is about a girl who wants something and instead of just whining about it, puts her mind to it and tries. I loved how the character persevered and worked to achieve her goal. I recommend this book to kids who like stories about perseverance in middle school, like Boba Time for Pearl Li. Highly recommend this. -Henry M, age 11
In the mid-1930's, 11-year-old Cora Mae Tipton was living on a farm in the Appalachian Mountains of Kentucky. Little does she know, big change is coming. The government is intending to provide electricity to rural towns across the US, through the Rural Electrification Act. Cora is excited, but is surprised to learn that not everyone supports the bill, including her own mother! With her close friend, she starts a campaign to bring electricity to her school. This involves starting a school newspaper to spread the word and selling pies to raise money. But things don't go quite as planned. This book, Light Comes to Shadow Mountain, can be considered historical fiction. The story of the electrification of the US is interwoven with the story of Cora's deep yearning for her mother's love and acceptance. This book made me realize that there was resistance to electricity during this time (many people felt the same way as Cora's mother), and it made me think — perhaps for the first time — what life would be like without lights, refrigerators or computers. I recommend this book to kids who like historical fiction, especially US history. I learned a lot. -Henry M, age 11
The Stupendous Switcheroo by Mary Winn Heider. I really love The Stupendous Switcheroo because there are a lot of surprises! And if you like action then you'll like this book! There are some funny characters in this book! All of Switcheroo's powers are like a piece of the mystery that he tries to solve throughout the book. Switcheroo gets new powers every 24 hours. Another thing I really like is that there practically is a mini preview on the front cover just from the pictures! It is very interesting that his mom is a scientist. Out of all the jobs the author could have chosen I think that a scientist was the right one. Sometimes he has to figure out his new powers. I really like this book and I think that you might like it too. - Lino T, age 7
Bone: More Tall Tales, by Jeff Smith,This is a great book for all that like the Bone series. It has lots of action and many familiar characters. Fone Bone shows up again and so does Smiley Bone! There are familiar feelings and places like the canyon that the three Bones originally split up and the feeling of being lost and not knowing what direction to travel in. There's a lot of comedy and fun involved. There are many fun stories inside of one overall story. I would recommend reading the nine books in the Bone series before you read this book so you know the characters! - Douglas T, age 10
The improbable Tales of Baskerville Hall by Ali Standish Is easily the best book I have ever read. This book is about a time-turning clock that takes living things and makes them young again. From tiny cute dinosaurs to crazy teachers The improbable Tales of Baskerville Hall is a jam-packed book filled with adventure and mystery: you finish a chapter and you are hooked for the rest of the story. - Karolina Lipinska-Kowalik
Best Wishes: Time After Time (Book 3) By Sarah Mylnowski & Christina Soontornvat. Be prepared to get stuck in a loop, reading this book over and over again! I recommend Time After Time to readers who like fantasy and magic. Time After Time is written by reading through a notebook that the main character – Lucy Usathorn – writes in. In the story, Lucy wakes up to field trip day, expecting it to be a perfect day. Instead, field trip day turns out to be a very bad day for Lucy. Towards the middle of the book, Lucy gets a magical bracelet. She makes a wish and ends up getting stuck in a never-ending loop, where she stays in the same Friday over and over again. In the end, everything ends okay. I have never read the first two Best Wishes books, but the third one – Time After Time – is so good, I'm going to read #1 & 2 of the series, the first chance I get -Sadie ( age 9 and a ½)
Witchlings: The Golden Frog Games, by Claribel A. Ortega, is an amazing book. When the golden frog games start and witches begin being turned to stone, no one knows what to do. So between uncle practice, costura trials, and Valley's new friend, the three witchlings must save their town and fix all of their stone competitors. This second book is amazing. It's full of magic, but yet is full of real worries and the pressure of being different. Readers of Amari and the night brothers will love this book, but really, everyone will. - Teagan, 11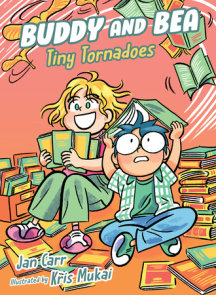 Buddy and Bea: Tiny Tornados is about when Buddy and Bea's class wanted a special name for their class. The book is very funny because Bea is very wacky. Bea does things that no other student in the class would do. For example, she steals from another class! I would recommend this book for kids 7-10 years old who like who like funny books. - Evelyn F. age 9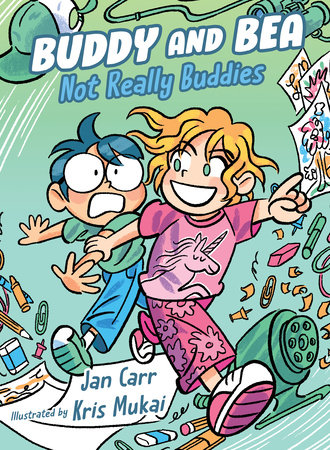 Buddy and Bea: Not Really Buddies is about a new girl in Buddy's class. Last year there was someone new in his class that was a no-show, and he and his friends played a joke that they were saving the chair for the no-show. When Bea joined the class, Buddy thought she would be a no show. Buddy got mad when Bea showed up. They got to know each other and became friends...sort of. This is a very funny book, but in a way that makes you say "oh no!" I really liked this book because they have adventures that are very unusual, for example, Buddy gets himself stuck in a very weird situation. Overall, I would recommend this book to kids 7-10 years old who like unusual comedy. - Evelyn F. age 9
APRIL 2023 REVIEWS
Two girls, Maggie Weir and Tatum Jones, were assigned to work together on a community service project focused on aerospace engineering: their goal is to make something useful for astronauts in the international space station (ISS). If they win, an astronaut will come visit their school! Tatum is a baton-twirler, very focused and very popular. Maggie, however, is a bit nerdy, messy and disorganized, and likes to talk about space with her only friend Shawn. Maggie has had a crush on Tatum since the beginning of the school year, after Tatum helped her when she tripped. So, when Maggie is partnered up with Tatum, she is both nervous and excited. This book, The Problem with Gravity, is about two very different girls and their life in middle school with LGBTQ+ themes. The two BIG questions are: will the girls win the contest? and will Maggie share her feelings with Tatum? In this way, the book was suspenseful, and you don't find out the answers until the very last chapter, which was arguably the best part of the entire book! I recommend this book to everyone, especially those who like to read middle school romance and, of course, those who like space and engineering. Awesome book. -Henry M, age 11
An eleven-year-old boy, Noah, lives in an ever-expanding house (that is, every day a new room is added), but he is not allowed to enter these new rooms while they are under construction. He only has the company of his annoyingly strict mother and a robot companion named Elijah. However, one day, he has had enough and enters a growing room. There he encounters a giant robotic spider — The Spideratus — that is building the new room. The Spideratus grabs him! During the attack, Noah remembers the blueprints for The Spideratus that he saw earlier among his father's belongings. He quickly pushes down simultaneously on two eyes (that didn't appear to have any practical function) and deactivates the mechanical spider. This sets off a series of events HIs mother decides to bring him to the big city, where his uncle, the town mayor, locks him up because Noah is deemed dangerous (i.e. too good with machines), just like his father. This book, The Sinister Secrets of Singe, follows Noah and Elijah and their journey to the Island of Singe to confront Noah's father and his army of robots. While this book was very well written and had a unique plot, there were no major twists or surprising turns to pique the reader's interest. Overall, the book lacked intrigue and was a bit bland. Nonetheless, I recommend this book to kids who want to read a story that is completely different, and especially those who like robots. Four out of five stars. -Henry M, age 11
Following a dramatic earthquake, middle-schooler Ellie Engle develops superpowers: necromancy (in this case, the ability to bring dead things back to life) and enhanced hearing (the ability to hear things from far away). In her first act of magic, Ellie resurrects her dead fish named "Burt the Betta Fish". But her super powers don't stay secret for long. In science class, students injected frogs with formaldehyde before dissecting them. Ellie accidentally brings her frog back to life, after becoming frustrated at an annoying classmate. A recording of the incident went viral on YouTube, and suddenly the whole world knows! This book, Ellie Engle Saves Herself, chronicles Ellie's new life out of the shadows and into the spotlight. Although her powers have many benefits, they also come with a cost (but you have to read the book to find out about that). This book focuses on friendship, and how maintaining friendships can be tough, especially at her age. You will like this book if you like quirky characters and middle-school drama, with a little bit of a twist! Highly recommended. -Henry M, age 11
In the book Saddlehill Academy Sweet and Bitter Rivals by Jessica Burkhart, the main character Abby St. Clair goes through many challenges with her new stepsister Emery Flynn. She is jealous because her dad and stepmother, Natalie, are paying more attention to Emery than her. The sad part is her mom left when she was seven and now she's stuck with Natalie who tries to be a mom but it just doesn't feel right to call her mom. They go through equestrian competitions, with their horses Beau and Bliss, in their free time. Rebecca, the horse teacher, makes both of them believe in their equestrian dreams. Abby is a school tour guide for Emery which causes even more problems with their awkward conversations. Problems start with a mystery email, leaving suspense until the last chapter. With the help of her friends Abby is able to solve the mystery and find the culprit. Abby is determined to leave her mark at her boarding school, Saddlehill academy. I liked this book because there was a lot of suspense and mystery, and the ending was a total surprise. - Abigail A
MARCH 2023 REVIEWS
Nigeria Jones by Ibi Zoboi is an electric, captivating read! It follows the protagonist by the same name who is in a dilemma between carving her path or following in her father's footsteps. Her father, the leader of a Black utopian movement that aims to rid the US of systemic racism, is firm in his beliefs, bordering on controlling. This book was a heart-wrenchingly beautiful read. Ibi Zoboi deals with challenging topics in a manageable and personal way. Nigeria Jones was beautifully remixed, with details from the past and present that made it appeal to younger readers while shining a light on the parts of history not taught in classes and the systemic racism that has shaped this country. - Meera P
Mouse, a 12-year-old girl, lives by herself on the abandoned top floor of the Haunted House ride at an amusement park. Yes, you read that right! She spends her days roaming the park and evading security. Each morning she has a bagel, which appears daily on the table at the bagel stand with a note "To the Ghost of the Haunted House of Horrors". A few years earlier, she pretended to be a ghost in the window, where she was spotted by several tourists, which ignited rumors that the house was truly haunted. But, no one knew it was her. One day walking around the amusement park, she meets Cat. Cat asks her if she knows a girl named Lauren. Mouse hadn't heard the name "Lauren" since she was dropped off at the amusement park over 100 days earlier. This book, 102 Days Lying About Lauren, tells the story of Mouse's (aka Lauren's) secret life and her adventures in the amusement park. This book is truly unique: it is sad and heartwarming at the same time. I liked the fun setting and imagining how she survived all on her own. If you want to read something really different, this is the book for you! -Henry M, age 11
Camp Quiltbag by Nicole Melleby and A. J. Sass is about two kids Kai and Abigail that spend the summer at a inclusive camp for queer and trans kids. They can't wait to find a community where they feel like they belong. They compete in camp games, share secrets and go on a ton of adventures. I liked that this story is told alternating between characters, because it's interesting to get two perspectives. After reading this book I feel like I have better knowledge about how someone who identifies as transgender might feel. - Abigail, age 10
If I See You Again Tomorrow, by Robbie Couch, is a perfect fast pace queer time-loop book to curl up and read. The characters really grow on you, and while it seems predictable, the book is filled with twists and turns. While a lighthearted book, it also packs an emotional punch, leaving you wanting to read more. I loved this book, and I could not put it down! I definitely recommend it. -Malia T-L age 14
Maya, a girl of Korean descent, is growing up in America with her mom, who is aloof, and her grandmother, who is growing forgetful. One day her grandmother (who she calls Halmunee, the Korean word for grandmother) cooks her a traditional Korean dish that is called Patbingsu (it's like a snow cone). After devouring the delicious treat, something unexpected happens: Maya suddenly is transported back in time to a scene from her grandmother's past. Maya quickly learns about this special form of magic and endeavors to time travel again by cooking Korean meals by herself. After several more trips to her grandmother's past, she finds and befriends a boy from the 1990's who can also time travel. Soon after unveiling some shocking truths about her new friend, she attempts to travel into his past, before the accident….. This book, A Spoonful of Time, is full of twists and turns, including two major plot twists that were completely unexpected. A unique aspect of this book is that it includes recipes of the dishes the characters prepare and cook. By reading this book, I learned about Korean culture and food. I recommend this to kids who like books about magic, food, family or all of the above. If you liked the Love, Sugar, Magic series, you must read this! -Henry M, age 11
In this thrilling sequel to Witchlings, Seven Salazar and her two best friends, Valley Pepperhorn and Thorn Leroux, are faced with the most dangerous enemy they have ever encountered. A mysterious witch is using archaic magic to calcify people (i.e., turn them to stone), who are competing in the Golden Frog Games, an annual competition between all of The Twelve Towns. The winner is given the chance to touch the Golden Frog, which gives them a vision of the future that can assist them or warn them of grave danger. The competition begins with Thorn, the first Spare to ever compete in the Golden Frog Games. (A Spare is a witchling, who instead of being sorted into one of the five covens, loses their magic unless they decide to take on a dangerous quest. See book 1). Thorn is immediately targeted by the mysterious witch, who throws a stone hex, but misses her and instead hits her teammate. Thorn perseveres in the competition and wins! After touching the Golden Frog, she has a vision that will resurrect the calcified witches (stay tuned for book 3). This book, The Golden Frog Games, is full of mystery, magic and intense competition. A major theme is forgiveness. I recommend reading the first book, and if you like that one, you will definitely like this one! Hope the third book is just as good! -Henry M, age 10
Love Letters for Joy, by Melissa See, is a truly wonderful book. The author's deliberate choice of words convey the characters' feelings to a point where you feel them yourself. Not only is the book cute, it also does a wonderful job writing about difficult topics such as homophobia, acephobia, dysfunctional families, and more. It is also a very diverse book, with characters who are panromantic, disabled, and asexual. You truly become invested in the story and the characters, to the point where you can't put the book down! -Malia T-L age 14
OK so suite hearts mostly talks about two girls named Rose and Cora and they are special. Because there are these things called a matchmaker, families and kids. They find a perfect pair to people. Rose and Cora are like in their teens. At some specific time they receive something called a red letter, which tells them who they're going to have to match. In the story it talks about how they match them and they use magic and charms. At one point Rose runs out of magic. And then they have a lot of drama in their matchmaking. they are cousins and they learn how to create love connections out of San Francisco hotel Coeur where they live. they are called Fledglings Rose and Cora most perfect there charms and enchantments to pass a test that will determine their future but neither of them expects all the drama that lies ahead. Rose has this person named Samantha and Cora has her own like crush or date and it's really hard for Cora to give it away to someone. at the end she ends up giving it to someone named Ariel and it's just really hard kind of and then at the end the way that Rose describes her kindling is oh I wouldn't call a magic resistant solo kindling with a two week time limit hard. she's talking to Julian oh, and have I mentioned that she hates Julian. then what happens is that like I think they have the same kindling or something I don't understand that part but they are talking About how hard it is or something. and they think that nothing can go wrong. I don't know if there's gonna be a next story or not but if there is a next story then hotel Coeur is going to be turned into one of the training places where they like become an official matchmaker (Rose and Cora already did that though). - Gwenn Z.
Spellbinders: The Not So Chosen One by Andrew Auseon. Ben absolutely does not feel "chosen": his parents are divorced (and he barely sees his mom), he doesn't have any friends in his new town, and his old friends didn't even show up to an event — the annual fantasy convention — they have been going to together for many years. Abandoned at the convention, he runs into a girl, Niara, who tells him that he is "The Chosen One", chosen to save the world Lux by acquiring a legendary weapon that belongs to the mighty prophet. Thinking this is merely a game, he goes along. Little does he know, this is anything but a game! Once he travels (via an inter-dimensional nexus) to the world of Lux, he realizes that this fantasy world is real, and there is no going back now. In Lux, he discovers strange things: the statue of the mighty Prophet is wearing flip-flops, the flag depicts an emoji, and the notebook he has been using to write down his adventure novel can make things come true. This book, Spellbinders: The Not So Chosen One, tells the story of Ben on his many fantastical adventures in the wonderfully odd world of Lux. I like this book because it is whimsical, silly and perfectly suited for the (incredible) sense of humor of 10-year-olds. Wink, wink. While this book is truly one of a kind, kids who like quirky books about fantasy, role-playing, and magic will like this one. Can't wait for the next book! -Henry M, age 10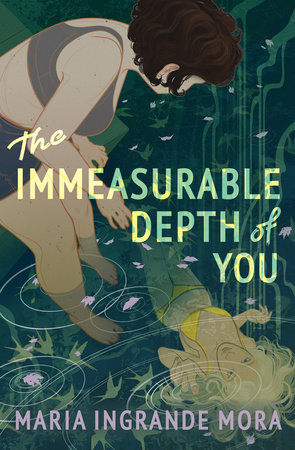 The Immeasurable Depth of You, by Maria Ingrande Mora, is an emotional YA novel featuring Brynn, who is sent to live with her dad on his houseboat for the summer, intentionally distanced from her life back home. As she adjusts to her dad's minimalist lifestyle, she struggles with her anxiety, which is complicated when she meets Skylar, a mysterious girl that suddenly gives Brynn a purpose. Overall, this book turned out to be different than I expected, but the theme of learning to face fears and a few plot twists along the way kept it interesting. It was both a powerful and enjoyable book! - Emily, age 13
FEBUARY 2023 REVIEWS
I liked Off the Bench. One reason I liked it is because it's about basketball and I don't know a lot about basketball. Another reason I liked it is because at the beginning he wanted to be in the starting 5 on his basketball team and at the end of the book he was still in number 6 slot, but he realized that he was still a good player and important to the team. I would recommend this book to a friend because it's about sports and it was fun to read. I think this book is similar to Shoot Out because in that book the main character is trying to help a side character feel like he helps the team. - Carter
Delphina, nicknamed Del, lives with her grandmother. Only occasionally, her father, who is on active military duty, is at home too. Her mother passed away when she was young. Del's life is often uprooted because her family moves from city to city (to follow her Dad), which means Del is constantly switching schools, having to make new friends, and learning to survive in new places. Her one constant is her grandmother. That is until…. her grandmother gets sick while her Dad is deployed, and she is forced to live with her great grandmother, Nana Rose, who she never knew. Nana Rose runs a local school for magic on an island off South Carolina. Del learns her grandmother once attended the school, where she was a star student. As the story progresses, Del finds out more and more about the once hidden reasons why her grandmother had mysteriously left the school many years ago. This book, Conjure Island, reveals the story, bit by bit, of a family mystery. This book is suspenseful, wonderfully strange and full of magic (in addition to one little shadowy ghost, a talking alligator, and a crab lady). I recommend this book to kids who liked Love, Sugar, Magic or books with magic. -Henry M, age 10
One day at school, Celia Cleary has a vision — a vision of herself opening her notebook with the name "Patrick" written repeatedly across every page. When she awakens from this vision, she finds herself holding her notebook and the name "Patrick" is written all over it, just like in her vision. With a little bit of help from her family guidebook (and her cousin Mary), she discovers it was an omen for a Doomsday, specifically for her 8th grade class, and time is running out fast. She realizes that there are three Patricks in her grade: Patrick Adams, Patrick Bell and Patrick Conners. One of them has been having increasingly good luck, like making two half-court shots in basketball and winning the prize in a large lottery. Could this be him? This book, The Drama with Doomsdays, is about Celia's race to stop the prophecy and save her 8th grade class from imminent doom. This book was so good, I stayed up past bedtime to finish it. I needed to know what happened in the end! Because this is the second book in this series (it is the sequel to The Problem with Prophecies, in which Celia first develops her prophetic powers), I recommend you read the first book first. This book is perfect for kids who like middle school drama, mystery, and magic. -Henry M, age 10
Geetanjali's family sings, which wouldn't be that much of a problem if she didn't have stage fright. But, when she picks up her aaji at the airport, her aaji isn't alone. Heena auntie is acting strange, and Lata auntie, someone Geetanjali has never met, came home with her. This mystifying mystery enchanted me, and the story is amazing! I like how at first it seems like the story isn't fantasy, but by the end, you're spellbound. You really should read The Cobra's Song, and you should really read it soon! - Anne K, age 10
On one ordinary day, Ryanna's father receives a letter, but little does he know…the letter is anything but ordinary. The letter is from Ryanna's grandparents, who she has not spoken to for seven years, since her mother passed away when she was 3 years old. The letter is an invitation, inviting Ryanna to spend the summer at her grandparent's old defunct summer camp, Camp Van Camp. Ryanna accepts, thinking her summer will be quiet and calm, but in reality it is anything but. Over the summer, she meets crazy relatives, and learns all about her mother and how much they are alike. She also learns that the camp will soon be razed and the land industrialized. A treasure map, found in a haunted cabin, leads her to believe there may be a way to stop the construction. This book, The Firefly Summer, is about an exciting summer filled with mystery, adventure and best of all, campfire s'mores! The plot is compelling and full of surprises. This book is perfect for fans of The Vanderbeekers! Highly recommend. A page turner. -Henry M, age 10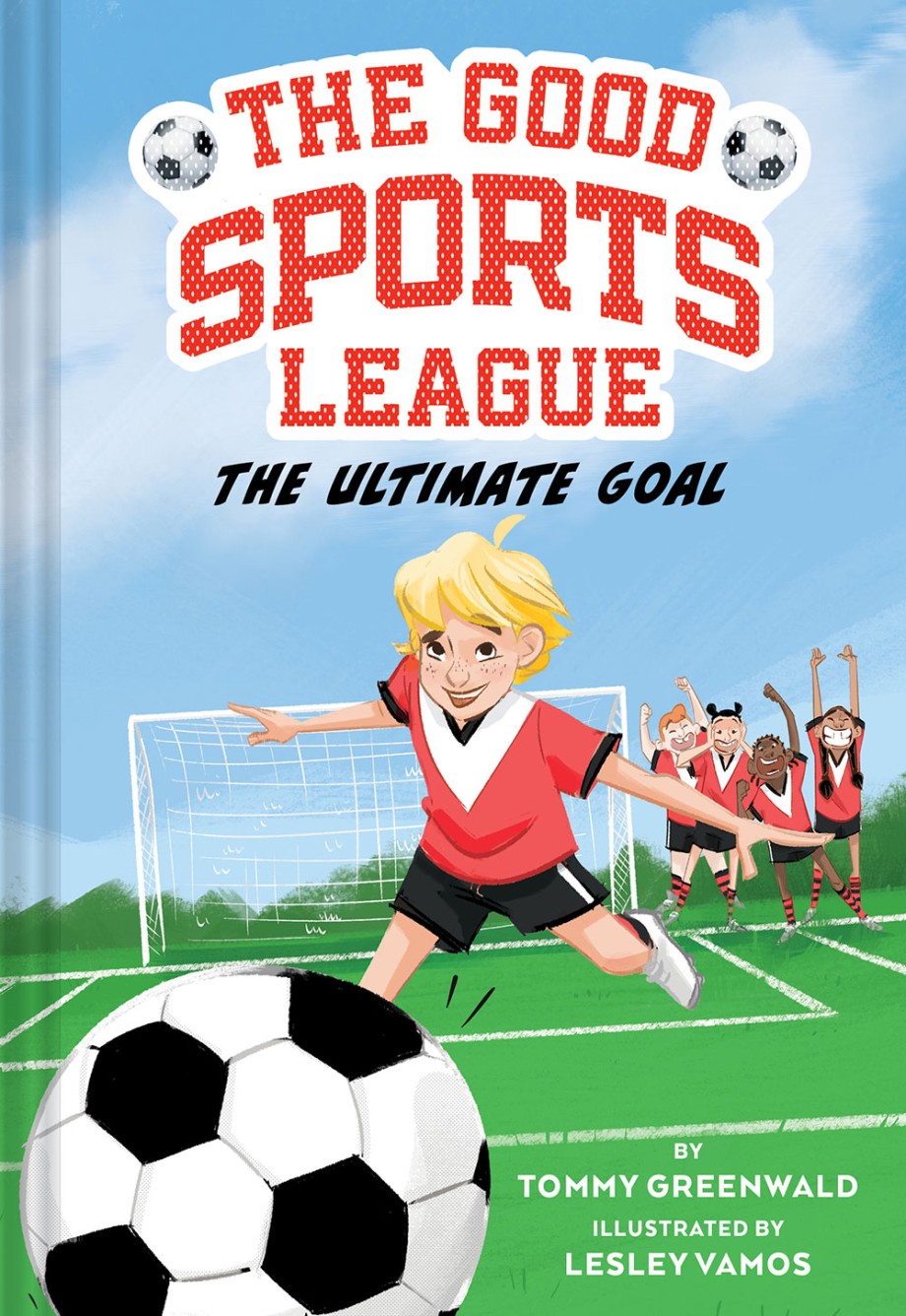 I really liked the book The Ultimate Goal because it was full of action and excitement and had a great overall moral to the story. I think that this is great for parents to give to their young kids because it is focused a lot on how sports isn't all about winning. It is also about how you should always have fun and always be a good sport whether or not your team wins or loses. This book has a great conflict and resolution and is a must read for any young soccer fans. 4.5 out of 5 stars. -Douglas T, age 10
Although I think and speak in a combination of languages, it was another thing altogether to read and listen to conversations in English, Hokkien, and Tagalog. It was an interesting choice stylistically for Mae Coyiuto to write in English with Hokkien and Tagalog phrases, but it allowed me, the reader, to understand more of the unique culture of the Philippines, the setting of Chloe and the Kaishao Boys. I enjoyed the concept of the novel, the idea of a girl not too much older than I following her dreams by moving abroad while battling with the constant kaishaos [blind dates] she is set up on. Chloe Boyswas a genuine protagonist, and I could truly understand some of her most awkward moments as she matured throughout the story to become a strong independent woman. I would recommend this novel for the YA classification as there is a more mature plot, but it was a lighthearted read that I quite enjoyed. - Caroline D.
JANUARY 2023 REVIEWS
Eva Nine's home has been destroyed. She had lived there her whole life. And, the robot who raised her was wounded. Eva, fearing for her life, flees aboveground. There, she tangles with the evil marauder, Besteel. During the encounter, she befriends Otto, the water bear (aka tardigrade) and Rovender, an undescribed species. With her new friends, she returns to the underground sanctuary and repairs Muthur, her robot friend. Together, the four of them decide to set out on a quest to find any remaining humans on earth (the setting is a million years into the future). This science-fiction book, The Search for WondLa, is about their incredible journey chasing after humanity with only one clue, a piece of cardboard that reads "WondLa". This book is full of twists and turns and is surprising in many ways. One thing I especially liked was that present day species, like tardigrades, were included in the story, but in this case, made gigantic! I recommend this book to kids who like science-fiction, like The City of Ember. I can't wait for the next book in this trilogy. -Henry M, age 10
Skander and the Phantom Rider is one of the best books I've ever read! I was hoping for Skandar and Scoundrel's Luck to win against The Weaver throughout the whole book! It has just the right amount of mystery to keep you interested and not too much that you think the characters won't ever solve it, and then they do. I also loved that Kenna's point of view was consistent throughout the whole story. - Anne K, age 10
This is Not A Personal Statement is a teenage-level story about a Filipino-American girl who feels pressured by her immigrant parents to be perfect. I loved watching her discover her interests and figure out that her parents dream isn't hers. It feels like you can guess the whole plot from the beginning but at the same time you are anxious to keep reading about the intense moments watching her find her way, navigate colorism, personal identity, parental pressure, and living life on her own. This story is meant for anyone who loves cliches and embarrassing moments as an escape from perfectionism and constant comparison to peers. - Addie S, age 15
Can you imagine, one day, starting to lose your own memories but mysteriously gaining someone else's memories? This book, Mixed Up, is about two children who are each receiving memories from one another — each time a memory is sent to the other, it is erased from the original person. For Reef, who is living with his foster family after his mom died of Covid, it is terrible, as he can't remember his mom's face anymore. For Theo, who lives with his strict father, it is simply inconvenient because he keeps forgetting when to harvest his strawberries. This book is about how these two boys work together to solve, as they call it, "the phenomenon". It explores the complicated family dynamics, especially in the time of the covid pandemic, of two very different kids in two very different families. I recommend this book to fans of Gordon Korman, who enjoy his earlier books, such as Restart. This book will make you laugh, think, and be thankful that your memories are yours to keep. -Henry M, age 10